Horses Helping Humans
Equine Therapy Counseling Services
---
Contact: Sheryl Johnson, MA, LCPC, EAGALA Member 
Hope Reins, 12n393 Waughon Rd., Hampshire, IL 60140 @ 847 612-4309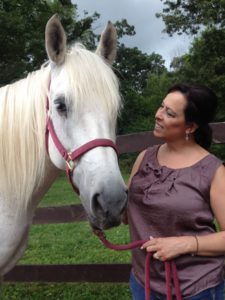 Equine therapy programs are facilitated by licensed therapists who are also experienced, certified equine specialists.  One organization certifying Equine-Assisted Psychotherapists (EAPs) is the Equine Assisted Growth and Learning Association (EAGALA).  According to its web site, EAGALA is "dedicated to improving the mental health of individuals, families and groups around the world by setting the standard of excellence in equine-assisted psychotherapy."  EAGALA is the premier professional association providing standards, education and support for EAP professionals.
EAP professionals say this therapy provides opportunities for metaphorical learning.  Using metaphors, either in activities or discussion, is an effective technique for working with individuals.  Non-verbal communication with a horse helps clients better understand themselves and how they relate with others in the world.  Horses relying on instinct and intuition, are adept at reading non-verbal cues, and reflect back to the individual with their responses.
EAP can be useful for clients dealing with psychosocial issues and various mental health needs, such as (but not limited to):
Anxiety disorders
Family Dysfunction
Mood disorder
Behavioral difficulties
Other psychological illness, such as ADHD, autism, personality disorders, depression, post-traumatic stress disorder (PTSD)
Major life changes such as trauma, grief, divorce and loss
At-risk youth
Victims of violence
Groups within businesses or organizations
Horses are large, imposing animals that can weigh anywhere from several hundred to 1,000 pounds.  They're also social animals, just like humans, and they have defined roles within their herds.  Horses have distinct personalities, moods and attitudes.  If you ever doubted this, just watch an interaction between a person and a horse.  What works with one horse will not necessarily work with another.  A horse may seem stubborn and defiant, or playful and fun.  In fact, they like to have fun, and they like to be with their peers.
Horses also require work.  They can't clean and groom themselves, or set out their own food.  And attending to their needs requires discipline and responsibility.
Documented research shows positive physical and psychological results from humans interacting with horses.  These include, but are not limited to, decreased blood pressure and heart rate, lower levels of stress, reduced feeling of tension, anxiety, anger and hostility, as well as increased levels of beta-endorphins, and beneficial feelings of self-esteem, empowerment, patience and trust.
Often, clients being treated with EAP have difficulty relating to other human beings, and would not accept closeness with another person – but they will with horses.  There's a bond that develops over time with equine-assisted therapy that is profound and natural, according to therapists utilizing the modality.
To effectively communicate with a horse involves a lot of patience, consistency, attention and understanding.  Horses are sensitive to mood, and have moods of their own.  According to equine experts, horses have the ability to mirror the moods of people.  A client may tell the therapist that the horse is stubborn – when, in fact, it is the client that is stubborn and resistant.  Another often-heard initial comment is that "the horse doesn't like me."  But horses, say the experts, are honest – and this makes them valuable assets in helping clients develop necessary non-verbal communication skills.  This requires the client to get outside their self, to respond to the horse with affection and attention.  The result is that the horse will respond in a similar fashion.
The bond that develops between horse and the clients involves:
Affection
Assertiveness
Communication skills
Confidence
Empathy
Mutual trust
Respect
Responsibility
Self-control
Unconditional acceptance
Our licensed and certified experts can help.  Call us today at 847 612-4309 for a confidential assessment.