Our Canine Therapist, Lola (CGC, TDI, RN)
---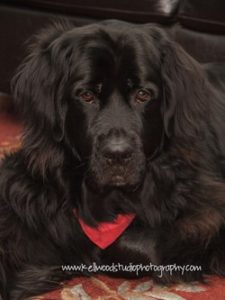 Lola is a black, four-year-old, 125 lb. Newfoundland.  Her parents are 185 lb. Brutus and 120 lb. River, both from Green Bay, Wisconsin.  Though quite large, "newfies" are referred to as "gentle giants."  Being both sweet and devoted, Lola is highly trained and eager to please all those who meet her.
She has received her Canine Good Citizen (CGC) award, and she also has the proud title of being certified with Therapy Dogs International (TDI).  Through weekly professional training with her owner, Sheryl Johnson (MA, LCPC) , she has competed successfully in Rally competitions (has her rally novice and advanced titles) and enjoys Agility coursework as well.
Since 2012, Lola has served weekly at a local nursing home where she loves on residents who are often sick and lonely.  Recently she had the pleasure of congratulating one resident who just received the Congressional Medal of Honor for his service in WWII. It was an exciting day!
Some of Lola's favorite interests include peanut butter, hiking up snow-capped hills, carrying the heaviest and largest stick she can find down the sidewalks, swimming in nearly frozen water to look for chunks of ice she can use as treats, and playing with her baby elephant (that she received for being a good girl after getting a bath).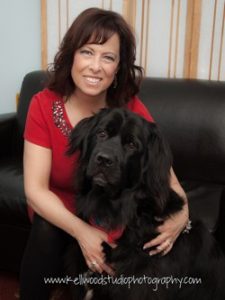 WHAT ARE THE BENEFITS OF CANINE THERAPY? Research suggests that interacting with and caring for a dog has many therapeutic benefits, including:
Decreased stress
Increased physical activity
Relief from anxiety and depression
Increased focus and attention through hands-on interaction
Improved communication and social skills
Learning the appropriate way to treat themselves and others
Unconditional love, affection and nurturing
Increased self-esteem
Reduced blood pressure
Elevated mood
Reduced loneliness and enhanced sense of purpose
Setting and respecting boundaries
Motivation to stay in treatment and participate fully in therapy
Therapists can gain valuable insights by observing the interactions between client and dog